The Closing Ceremony and Graduation Ceremony for 5th grade students of the academic year 2021-2022
The Graduation Ceremony for the academic year 2021-2022 and the Farewell Ceremony for the Year 5 graduating students of the years 2021 and 2022.
On May 23rd, the school year-end ceremony for 2021-2022 took place in a joyful and intimate atmosphere. eSchool always aims to educate students to become well-rounded individuals, rich in love, positive thinking, and harmonious relationships with those around them. Therefore, the year-end ceremony at eSchool is not just for students with good academic achievements, but also a chance to honor those who have demonstrated the qualities of a good student that eSchool strives for.
After a year of disruption due to the Covid pandemic, this year-end ceremony is also an occasion to celebrate an important milestone on the journey of seeking knowledge for Year 5 graduating students in the 2021 and 2022 academic years. There will be other milestones awaiting them in the future, which may be more challenging, but also very worthwhile. Wherever they are, in whatever environment, always nurture the passion for lifelong learning and cultivate curiosity to achieve success in both learning and life. May the students always find joy and excitement in learning.
The students receive certificates of completion for the academic years 2021-2022 and 2022-2023 for completing elementary school.
This year-end ceremony is also an opportunity for eSchool to express sincere gratitude to Teacher Kevin Hale, who has been dedicated to eSchool since its early days and especially to eClass for the past 10 years. Thanks to him and the enthusiastic team of teachers, eSchool students have always been cared for, nurtured, and focused on personal development that is appropriate for each individual.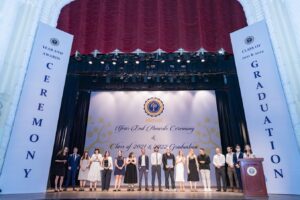 Teacher Kevin Hale and other teachers at eSchool.
As we come to the end of a school year full of changes due to the pandemic, it is truly a source of pride that members of the eSchool community have worked together to overcome challenges and adapt flexibly to new learning requirements and conditions. We wish all students a fun and energizing summer break so they can be ready for the 2022-2023 school year with many exciting and inspiring things ahead.